Entertainment > Movies / TV

---


TuesDVDay News Update
Posted by Jay Spree on Apr 1, 2003, 15:24

On the box: Under Siege 2. Again!
In the player: Clerks Animated
Heavy rotation: HIM
Sore thumbs: Animal Crossing


Well, I didn't think life could get any less interesting or annotate-able than it was, but sure enough, it's happened.

I've done exactly two "interesting" things since last week: bake a fudge cake, and break my girlfriend's bed – and no, we weren't even doing the nasty when it broke. I downloaded an .MPG of Sid Eudy snapping his leg in half at WCW Sin, and I've figured out how to burn regular audio CDs on my PC.

So there's not really a lot of bullshitting to do with you this week, although for a change, there IS some news! I know, I was shocked too. So without further ado, let's HIT THE CONTENT~!



WHAT'S HOT THIS WEEK

Series three of Friends is out, as is a boxset featuring the all first three series. Don't even waste your time on the two Best of Friends discs – they just contain five episodes and no extras, so you may as well shell out a little extra and get the boxsets. If you're that desperate to buy a best-of, go pick up The Best of The Power Rangers, because it's probably going to end up in the bargain bin sooner than later. DS9 Season 2 hits the streets today and it's the usual Trek DVD fare – if you bought the TNG sets, you'll know exactly what to expect in terms of extras. There's also a bunch of Bible-related DVDs in stores about now, should you want to see what the fuss is all about.

There are two versions of Red Dragon out to buy (well, more if you include suckass fullscreen editions), the Collector's Edition and the Director's Edition. Good Lord these labels are getting ridiculous. Anyway, the CE features interviews, featurettes, deleted, alternate and extended scenes, isolated score and… no commentary? What's up with that? Oh boy, that's a serious downer. Well, the DE has all of that as well as an extra disc containing Brett Ratner's video diary, a few of extra featurettes, screen and film tests, Ratner's student film, and a storyboard comparison. It's probably worth the extra six bucks for the features, but man – the lack of a commentary hurts both sets.

I'm gonna bore the shit out of a lot of people now by talking about a Bruce Lee DVD. Well, it's a Bob Wall DVD, but people only give a shit about Bob Wall because he was in a bunch of Lee's films. Now, The Life and Legend of Bob Wall features the infamous footage shot by Ahna Capri on the set of Enter The Dragon. There have been so many lawsuits threatened and thrown about over this footage it isn't even funny, and the use of it on this DVD is alleged to be illegal, and taken from a very bad source. Combined with Bob's revisionist history, it may be used to paint certain things in a very different light than, how can I put this, might actually be true. So firstly, don't believe everything you hear on this doc, because while Wall's seen and done a lot, he likes to think he's seen and done a lot more than he has. And secondly, well, everyone has been waiting to see this footage see the light of day, so for collector's and curiosity's sake, I would heartily advise anyone who sees it to pick up a copy of this and hold onto it for later eBaying.

And speaking of documentaries, the RIGHTEOUS Uncle Saddam documentary is something that, given the current political climate, everybody should really see. It's kind of telling that on the "customers who bought this also bought" list was Jackass: The Movie, but what the hell. This is seriously worth checking out.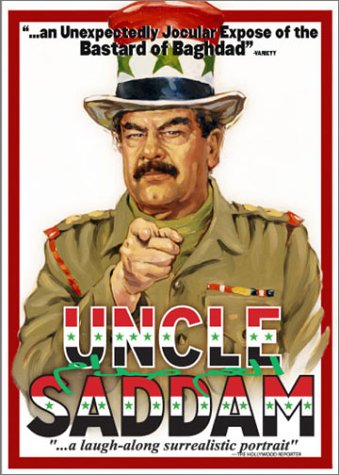 There's a few older titles worth picking up this week too. The Collector's Edition of American Graffiti gets re-released this week, and it's definitely worth picking up. Though I am a little confused: on the Episode I DVD, there's a bit where Lucas is telling someone how "Grafitti" was a flop and didn't make any money. But I was watching the Lucas piece on the Biography Channel the other day and it made the film out to be a box-office sensation. What gives? Oh, and speaking of that Biography piece, if Lucasfilm are seriously claiming that they don't have sufficient BTS footage to put together original trilogy DVDs, they're flat-out lying. They cut together so many different pieces of on-set film it just wasn't funny. But then again, they seem to insist that Greedo shot first, so maybe it's just me.

Batteries Not Included is either a piece of gooey, oversentimental crap or a magical little film depending on your perspective. I've got sack enough to admit that when that little robot is helping to put the mosaic tiles back at the end of the film, I cried. I was about nine, but I cried, yo. There's a single-disc re-release of Terry Gilliam's Brazil, but DO NOT BE TEMPTED! Track down the awesome three-disc release that includes both cuts of the film, because you're honestly cheating yourself if you buy the standalone disc (I'm not even sure which cut's on it). Other than that, Clockers is worth seeing, Darkman's worth seeing, don't bother with Breakfast Club unless you want to understand another three Kevin Smith jokes, go and buy Groundhog Day: Special Edition NOW and, just to shut Anthony up, The Man Who Wasn't There is pretty good too.

Music-wise, there's the Beatles Anthology, the British Invasion Pack (featuring Queen, Genesis and The Kinks), and two volumes of Ice Cube videos. Gotta love that rich DVD tapestry.

Digital Versatile Dick
Once again, there's nothing terribly offensive in the lineup this week, so it's hard to pick a winner. That said, Barroom Babes and Brawls sounds right up the Bumfights/backyard wrestling alley, so if you're into that kind of crap, hey, knock yourself out.



"I'LL BE BACK." "NO SHIT."

Well, he said it, and Artisan have delivered it - ANOTHER Terminator 2 re-release: T2 Extreme.

Interestingly, this one manages to be both inferior and superior to the crazybad edition already out there. While much of the meat of the second disc is gone, replaced by some BIZARRE DVD-ROM style content, the disc does contain a new, restored digital transfer, a James Cameron commentary (!!!!!!!!!) and a new documentary. So while it's a pain to have to shell out AGAIN, there might yet be a coupel of redeeming features.

Disc one of the set contains the flick with an all-new anamorphic digital 1080P, 24 FS high definition digital telecine transfer, 5.1 EX and Dolby headphone tracks, commentary with James Cameron and William Wisher, and "Extreme Interactive Mode with graphic commentary and rare behind-the-scenes footage" (read: White Rabbit).

Disc two holds the all new 'No Fate But What We Make' documentary, focusing on T2's role in the evolution of visual effects, and another new featurette, 'T2: On The Set', a "retrospective montage of life on the set of the greatest action moview ever made, featuring rare production footage!". From there, things get totally weird, as the film is included AGAIN in 'T2: High-Definition' – "The complete theatrical version of the film in Microsoft Windows Media 9 series, playable in high resolution and 5.1 sound directly from your PC". Um, okay, why exactly wouldn't I just play the high-definition film from the first disc on my DVD-ROM? Wouldn't that do exactly the same thing? What a waste of space. Then there's the 'Infiltration Unit Simulator and T2 FX Studio', where you can "Morph your imported images into a T-1000 or a T-800 terminator", and the 'Skynet Combat Chassis Designer' that allows you to "Construct and field-test your own ultimate fighting machine. Track your progress online!" Yeah, can't wait for that one.

I think the set'll probably be worth picking up for the Cameron commentary, though it's certainly not worth upgrading from the current boxset. Luckily, I haven't got that, so I'll pick it up cheap from Play and get the new one to boot. Hooray for me.

Thanks to the DVD Times.



MOUSE TO THE HOUSE

Disney are knocking out special editions for a couple of popular family flicks, The Love Bug and Sleeping Beauty, due on May 20th and September 9th respectively.

Herbie gets a two-disc release, with the movie in anamorphic/5.1 with a commentary track and the Susie the Little Blue Coupe short on the first. On the second disc are deleted scenes, five featurettes, two "sound studio albums" (beats the hell out of me), the 1969 Disney Studio Album (again, I have no idea), stills, trailers, radio spots, and a screenplay excerpt.

Beauty only gets a single-disc effort, but it looks to be fairly packed. You get your pick of anamorphic or fullscreen (yeah, some choice) with a 5.1 track. Then you get 'Once Upon A Dream: The Making Of Sleeping Beauty', Virtual Galleries, 'The Capture Of The Prince' and 'The Fairies Put The Castle To Sleep' storyreels, a widescreen-to-fullscreen comparison (yeah! Educate those marks!), a couple of featurettes with a film historian, two Beauty animators and the Pocahontus co-director discussing various production aspects, live-action reference footage of Philip and Helene Stanley dancing while animators sketch her, a featurette on restoring the film, 'The Peter Tchaikovsky Story' originally broadcast on the 1959 Disneyland show, the Grand Canyon short, a Walt Disney-hosted look at animation techniques, the 'Rescue Aurora' set-top game and the 'Sleeping Beauty Ink And Paint Game'. Looks like a nice blend of kiddie features and more hardcore stuff.

Thanks to the Times.



RESIDENT EVIL IS FOR GAYS

Along with Dog Soldiers and more recently My Little Eye, 28 Days Later proved that British filmmaking is still right up there in the horror department, and that we've finally grown up and moved on from endless Lock, Stock clones. For superb, post-apocalyptic super-zombie frights, it doesn't get much better than 28DL. And for commentary fans, it doesn't get much better than this DVD.

Fox are doing a sterling job with the Region 2 release of the film, due out on May 19th. It'll be treated to the anamorphic/5.1 sugar, an audio commentary that looks like it might also be subtitled, though I'm not sure ("Sound 2.0 & English for the hearing impaired"), a storyboarded alternate ending that is said to be UNREAL, eight deleted scenes with optional commentary, stills gallery with commentary, polaroid gallery with commentary, a making-of, music video, animated storyboards, the teaser and the trailer. That's pretty damn sweet.

I'd suggest heading over to Play to pre-order. Thanks to the Times for the info.



ALIEN QUADRILOGY TETRALOGY

Well, it appears the set is still alive.

According to this month's UK Empire magazine, who were lucky enough to speak to Sven Davison of Fox, the specs are tentatively as follows:


New cuts of Alien, Alien3 and Alien Resurrection, via seamless branching

Aliens will include the Theatrical Cut in addition to the SE (why?)

Alien3 will be labelled the "Extended Work Print", not a director's cut as Fincher wants and has had nothing to do with the new cut. It isn't clear exactly what additional footage they will incorporate, but there's between two and five hours of effects footage (a lot of it dailies and unusable shots that will likely be limited to a featurette) and about ¾ hour of cut footage from the workprint, so there's certainly a lot that could be included in some form.

Commentaries on all four films by their respective directors (quite how they plan to convince Fincher to do this will be interesting)

Commentaries on all four films by cast members

"Approximately 4 hours of bonus material on each of the films bonus discs including featurettes, deleted scenes, documentaries, multi-angle scene comparisons, full screenplays, trailers, art galleries and DVD-ROM material"

The ninth disc will contain the Alien Legacy documentary (68 minutes) and the 2001 Alien Evolution documentary (75 minutes) hosted by Mark Kermode.


Now, a few things are important to note. Firstly, the specs listed are pretty similar to those that appeared on DV-Depot and IGN in February, that subsequently vanished without a trace and led to an IGN article stating that the specs were inaccurate, and that publishing them would jeopardise negotiations for various materials. It is likely that, given the publishing-lag of print magazines, Empire's interview was conducted at the same time all of this was happening. The fact that Davison confirmed these features proves that DV-Depot's original specs were at least accurate, and it is possible that whatever problems have arisen may have done so as a result of their leaking the info. Nonetheless, those problems are likely to have happened after Davison gave the interview, so until official word comes from Fox, these specs are far from set in stone (though they are markedly awesome).

I certainly hope the set does surface in September as rumoured, since I've sold my Legacy set and I left my copy of the Alien3 workprint in Wales. Arse.

Thanks to the Times… again.



THAT'S JUST LOONEY

Just a quickie, this. Super Warner Bros. are running a pretty detailed online survey about their upcoming Looney Toons DVDs. It's apparently a limited survey and it's difficult to get in, but if you're interested it takes about ten minutes and you can help influence the decision on which DVD sets are released.

Here's the link.

Thanks to The Digital Bits.



And that, my friends, is about that.

Minimum banter + maximum news = easy week for Jay. Take care until next week, and remember kids:

THAT'S JUST GREAT, YOU'VE RUINED EVERYTHING. THANKS A BUNCH. GET THEM~!

Peace.
Jay
---